Recommended BMP: Minimize the Dissolution of Mercury in Vacuum Lines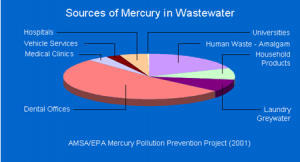 One of the current best management practices for managing dental amalgam in wastewater, recommended universally among dental organizations, is the prohibition on the use of dental vacuum line cleaners that promote the release of mercury from the vacuum lines. Specifically, the American Dental Association (ADA) currently recommends that dental offices use only dental vacuum line cleaners "that minimize the dissolution of amalgam" in the lines, and even specifies that bleach or chlorine-containing cleaners not be used to flush wastewater lines.
These recommendations stem from a study in the July 2005 issue of the Journal of the American Dental Association (JADA) entitled "Disinfectants' Effect on Mercury Release from Amalgam" which demonstrated that:
"quaternary ammonium compound disinfectants did not mobilize mercury ions into solution" while "chlorine disinfectants mobilized mercury ions the most, followed by the bromide, iodophor, peroxide/peracetic acid and phenolic disinfectants."
The study further advocated that dentists should be "good environmental stewards and should follow practices that reduces environmental mercury release."
In December 2016, the U.S. Environmental Protection Agency (EPA) issued a final rule on amalgam discharge from dental offices, which among other things, would have legally prohibited the use of drain cleaners that are either oxidizers (bleach, phenols, iodophors, chlorine-based or peroxide) and/or have a pH lower than 6 or greater than 8. On January 20, 2017, a White House memorandum put a freeze on all or new pending regulations, which included the EPA final rule on amalgam waste.
OSHA Review Recommended Practice: We recommend that dental offices follow the ADA best management practices and EPA proposed final rule to: Use only vacuum line cleaners, such as quaternary ammonium cleaners, that minimize the release of mercury in the lines. Oxidizing cleaners, or those containing chlorine, phenols, and iodine, should be avoided because they cause mercury from amalgam to dissolve into the wastewater lines.
Since 1992, OSHA Review, Inc. has provided dental professionals with comprehensive programs to support regulatory compliance and infection control. We are a registered continuing education provider in the state of California, specializing in Dental Practice Act, infection control, and OSHA training.
OSHA Review, Inc. provides SUV Disinfectant & Cleaner both concentrate and ready-to-use wipes. SUV Disinfectant & Cleaner meets OSHA and EPA regulations, and CDC recommendations.