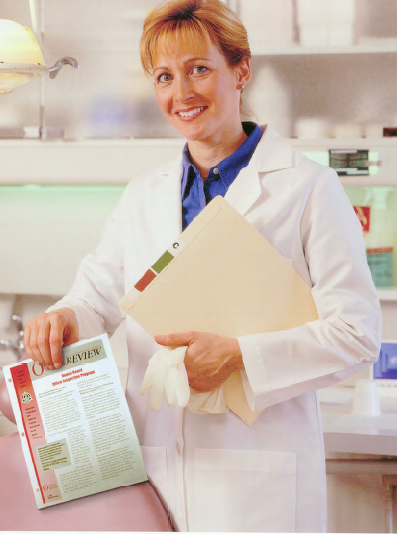 There's no way we can keep up with OSHA regulations without your help. I have recommended OSHA REVIEW to several of my friends. Thanks for the great job.
OSHA REVIEW has been invaluable to our office in management of OSHA-related requirements and demands. Thank you.
OSHA REVIEW helps to keep me up to date with the multitude of OSHA/HIPAA regulations, and OSHA REVIEW makes it easy to conduct the required staff OSHA meetings. I also appreciate the Dental Continuing Education Credits.
OSHA REVIEW has consistently provided the most up-to-date precise aspects of keeping the practice of dentistry in line with the highest standards of professionalism.
Your publication is right to the point. It gives me the confidence to practice within the regulatory guidelines. We save time and money—with Dental Continuing Education Credits to boot! Keep up the good work!
Peace of mind in just one hour a month!
OSHA Review, Inc. is an approved CE provider by the Dental Board of California and the Academy of General Dentistry.
The OSHA Review Compliance Program is a bimonthly, CE-based newsletter that provides dental professionals with consistent, current information on regulatory compliance and infection control in an easy-to-read format.
When you order OSHA Review, you'll understand why dentists in California have relied on their subscriptions for more than 25 years.
Dental Continuing Education
(CE Credits)
As an added benefit, you and your licensed staff members can earn up to half of your required dental CE Credits (California – dental continuing education requirements) for one low subscription rate.
In-office education eliminates expensive tuition, travel costs and lost work time.
Every year, you'll receive Cal/OSHA's mandated bloodborne pathogens training.
The Dental Board of California requires two units in Infection Control and California Dental Practice Act; you can count on us to provide both courses.
California Dental Practice Poster Set
When you become an OSHA Review subscriber, you'll also receive a set of state and federal posters containing the required posts for a California dental practice.
Convenience
You'll receive up-to-date, accurate regulatory information delivered right to your practice every two months. Written with an easy-to-read format, OSHA Review is the simple solution to your dental education needs.
Mandated Dental CE Courses
The OSHA Review Compliance Program includes both the Infection Control and California Dental Practice Act courses mandated by the Dental Board of California. Additionally, the program provides up to half of the continuing education credits required for license renewal for all licensees in the office.
Specific to California Dentist
Subscribers of OSHA Review will also receive a compliance binder packed with do-it-yourself Cal/OSHA plans and OSHA Review's unique compact 18" x 14" poster set that combines the required State and Federal posters.