Kansas Sterilizer Monitoring Requirements – Spore Tests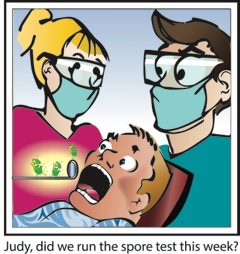 The Kansas Dental Board Statutes Chapter 65 Article 14  requires that:
"Biological spore testing devices shall be used on each sterilization unit after each six days of use, but not less often than each month, to verify that all pathogens have been killed. A log of spore testing shall be kept for three years for each sterilization unit."
For most dental offices this mean weekly testing.
In addition, the CDC Guidelines for Infection Control in Dental Health- Care Settings state:
"Monitor sterilizers at least weekly by using a biological indicator"
The OSHA Review Spore Check System provides a convenient, cost-effective service to monitor your sterilizers. Test results can be accessed in multiple ways, including 24-hour online access and as an added value if you forget to test your sterilizer we will send you a reminder. With these features you can feel confident that your office is meeting CDC recommendations.