Reminder: Effective Date for New Proposition 65 Requirements is August 2018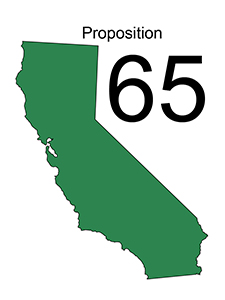 The new Proposition 65 requirements take effect on August 30, 2018, which will require California dental offices with ten or more employees to modify their Proposition 65 warning(s) to patients. Currently under Proposition 65, California dentists with ten or more employees must post up to three notice sign prominently in their offices alerting individuals to the potential exposure to chemicals (restorative materials, nitrous oxide, bisphenol A) used by that office.
Under new regulations passed back in August 2016, California dental offices with ten or more employees must comply with one or both of the following by the August 30th compliance date:
Post one sign (to replace the three signs currently required) at all public points of entry to the dental office or in each location within the office where an exposure is reasonably likely to occur. The notice or sign must be no smaller than 5 by 5 inches and printed in no smaller than 20-point type.
Provide a warning with the required language with or in an informed consent form signed by the patient prior to exposure.
For our OSHA Review Subscribers… The new warning sign in English or Spanish, with the new language, as well as a Proposition 65 FAQ document, can be downloaded from OSHA Review's website. The new language is also provided below.
2018 Proposition 65 Language:
WARNING
Certain dental procedures performed in this office can expose you to chemicals known to the State of California to cause cancer or birth defects or other reproductive harm or both. Those procedures can include sedation with nitrous oxide, root canals, placement or removal of crowns, bridges, and restorations such as mercury-containing fillings and use of dental appliances. Consult your dental care provider about these exposures and which materials are appropriate for your treatment. Additional information is also available at www.P65Warnings.ca.gov/dental.
Since 1992, OSHA Review, Inc. has provided dental professionals with comprehensive programs to support regulatory compliance and infection control. We are a registered continuing education provider in the state of California, specializing in Dental Practice Act, infection control, and OSHA training.