Some California dentists must post Proposition 65 warning signs – OSHA Compliance
California dentists with ten or more employees (on payroll) must post notice sign(s) for visitors to their dental office, notifying them of listed chemicals in the office. California's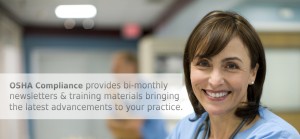 Proposition 65, also known as the Safe Drinking Water and Toxic Enforcement Act of 1986, requires the Governor to publish a list of chemicals known to the State of California to cause cancer or reproductive harm. The notice sign(s) have specific wording to alert individuals to the potential exposure to chemicals used in the office.
Compliance with Cal/OSHA's Hazard Communication Standard is considered a satisfactory warning to employees, but patients and others must be warned by posting two warning signs, one for restorative materials and one for nitrous oxide, if such chemicals are used in the office. A list of restorative chemicals covered is included at the end of this article.
The 8½ x 11 notice signs must be prominently placed in a location which provides a "clear and reasonable warning" to all patients and visitors prior to potential exposure. There is sufficient leeway in the standard to allow dental offices to determine whether the signs should be posted at the entrance, in the waiting room, in the operatory, etc.
For our OSHA Review Subscribers: Both Proposition 65 signs can be downloaded from OSHA Review's website – www.oshareview.com in the restricted section under Documents.
PROPOSITION 65 RESTORATIVE CHEMICALS USED IN DENTAL OFFICES
Mercury, mercury compounds, beryllium, ceramic fibers, chloroform, chromium (hexavalent), crystalline silica, formaldehyde, methylene chloride, nickel, chloroform,  toluene
Since 1992, OSHA Review, Inc. has provided dental professionals with comprehensive programs to support regulatory compliance and infection control. We are a registered continuing education provider in the state of California, specializing in Dental Practice Act, infection control, and OSHA training.